AEOLIAN ISLANDS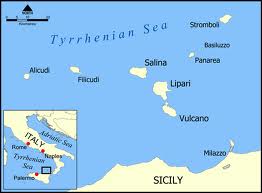 The islands are served by and hydrofoils from Sicily and Italy's ports. There is no airport, but if you are wealthy you can arrive by helicopter .
The main port of departure for the Aeolian Islands is Milazzo, located at the base of a peninsula that juts into the Tyrrhenian Sea with a small promontory, distant 43 km (26.72 mile), from Messina City, on the northern shore of Sicily.
However, there are also services (more frequent in Summer) from Palermo and Messina in Sicily and from Reggio Calabria, Naples  in mainland Italy.
During the summer tourist season, there are also occasional ferries and private boats  from other local ports – these are often designed as day trips to the islands.
Source : Wikipedia.org edited by Vanvakys
The nearest airport is  Catania International Airport
Sicily By Boat: How to arrive by boat to Sicily 
By Hydrofoils for Time Schedule and more info visit: www.Usticalines.it
By ferries for Time Schedule and more info visit: Siremar
Related links: Vacation in Sicily :  Aeolian Islands, Itineraries Read more about Siciliana Itineraries and Stories, CiaoPics.com, MySicily.com, Recipes