ENRICO BRIGNANO a "Rugantino in New York"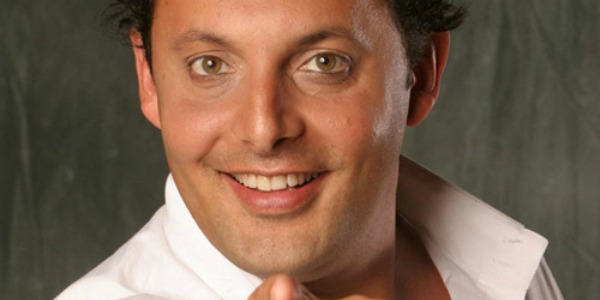 Recently, I was fortunate enough to spend a fascinating and enjoyable evening with renowned comedian Enrico Brignano. Arguably the most active and eclectic comedian in Italy today, we discussed everything from Italian history and politics to Italian-American culture and the New York art scene- all of it tinged with his signature ironic wit.
Enrico is in town, along with his incredible cast of 70 actors, dancers and singers, having just completed a three-night run of his outstanding production of "Rugantino". Set in 19th century Rome, the title character, Rugantino, takes his name from the Roman term for arrogance, "ruganza", and is quite the mischievous scoundrel. Just playful enough to be sympathetic, Rugantino's presumptuousness has him cooking up one scheme or another as way of life. But when he makes a bet that he can seduce Rosetta, the wife of one of Rome's most prominent citizens, he gets more than he bargained for.
Created by Garinei and Giovannini and written in collaboration with Pasquale Festa Campanile, Massimo Franciosa and Luigi Magni, Rugantino debuted at Teatro Sistina in Rome on December 15, 1962. It also played a sold-out, three-week run on Broadway in February of 1964. Enrico and his cast bring one of Italy's most successful musicals of all time back to life stateside after a fifty-year absence with an effort that is infused with passion an incredible amount of love and respect for comic theater. In speaking with the actor, it is clear that he takes great pride and satisfaction from his experience sharing such a beloved story and part of Roman culture with Italian-Americans and is quite moved by the success of the production and the overwhelmingly positive and encouraging feedback he and his colleagues have received here in New York.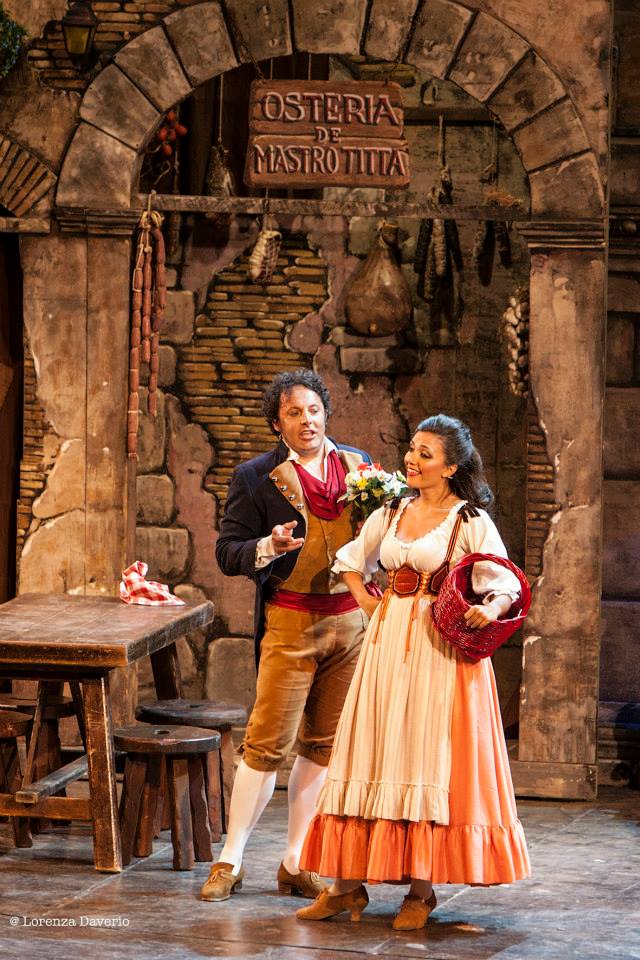 While sharing some brick oven pizza at Sandro Giusiani's uptown restaurant, Bettolona, I got a glimpse of the heart and mind of Mr. Brignano. He explained that his father was born in Sicily but migrated to Tunisia and, eventually, to Rome, where he met his Abbruzzese wife. Yet, Sicily remained at the heart of their household, as the comic illustrated in classic Brignano fashion: "A me casa si parrava sempri u Sicilianu, e me matri cucinava sempri i mulinciani a parmiciana, a pasta chi sardi, anelletti o furnu e a finuta un bellu bicchieri di vinu bonu… ca fa bonu sangu".
But his comedy isn't all about getting laughs. Fundamentally, it is about giving back. "It was really hard work for me and my cast, very challenging, I'd say, to reproduce such an important classic Italian musical in America", (which involved reprising a  role that had been played by such famous performers as Nino Manfredi and Enrico Montesano). "I came to New York for the first time more than 20 years ago in order to study English. I met with many Italians: particularly the Neapolitans and Sicilians of Little Italy with their typical mix of Americanized dialects… I recall that they were quite solicitous and prepared to help me in any way. It was at that time that I met my generous friend Marco, another young Italian who is now a restaurant owner, and I'm so grateful to be able to meet up with him again. I felt ready to give back to the people I love by sharing the best of my talent and bringing the message of our "immense culture" over to them. I believe in Culture as a way to resurrect the fate of our nation. Italy is experiencing a really dark period in terms of political, social and cultural development. Coming here I feel a great affection towards me and for the country we have in common, despite the fact that many of the Italian-Americans I've met are removed by several generations. A man and his family drive eight hours from Virginia to enjoy our spectacle and then waited an hour to meet me backstage. He had tears in his eyes as he thanked me. The warm embrace of the audience has really moved me to give back more than anything else."
Enrico is a very talented actor and comedian, who, like many of them, also possesses an incredible gift of sensibility and humanity.
Grazie Enrico e' stato un gran piacere rivederti! Looking forward to seeing you back in New York very soon.
Interview and web adaptation by Salvatore Cottone of Vanvakys Art International
Editing and Language Consulting by Valeria Romana Casale of www.Onpointtranslation.com