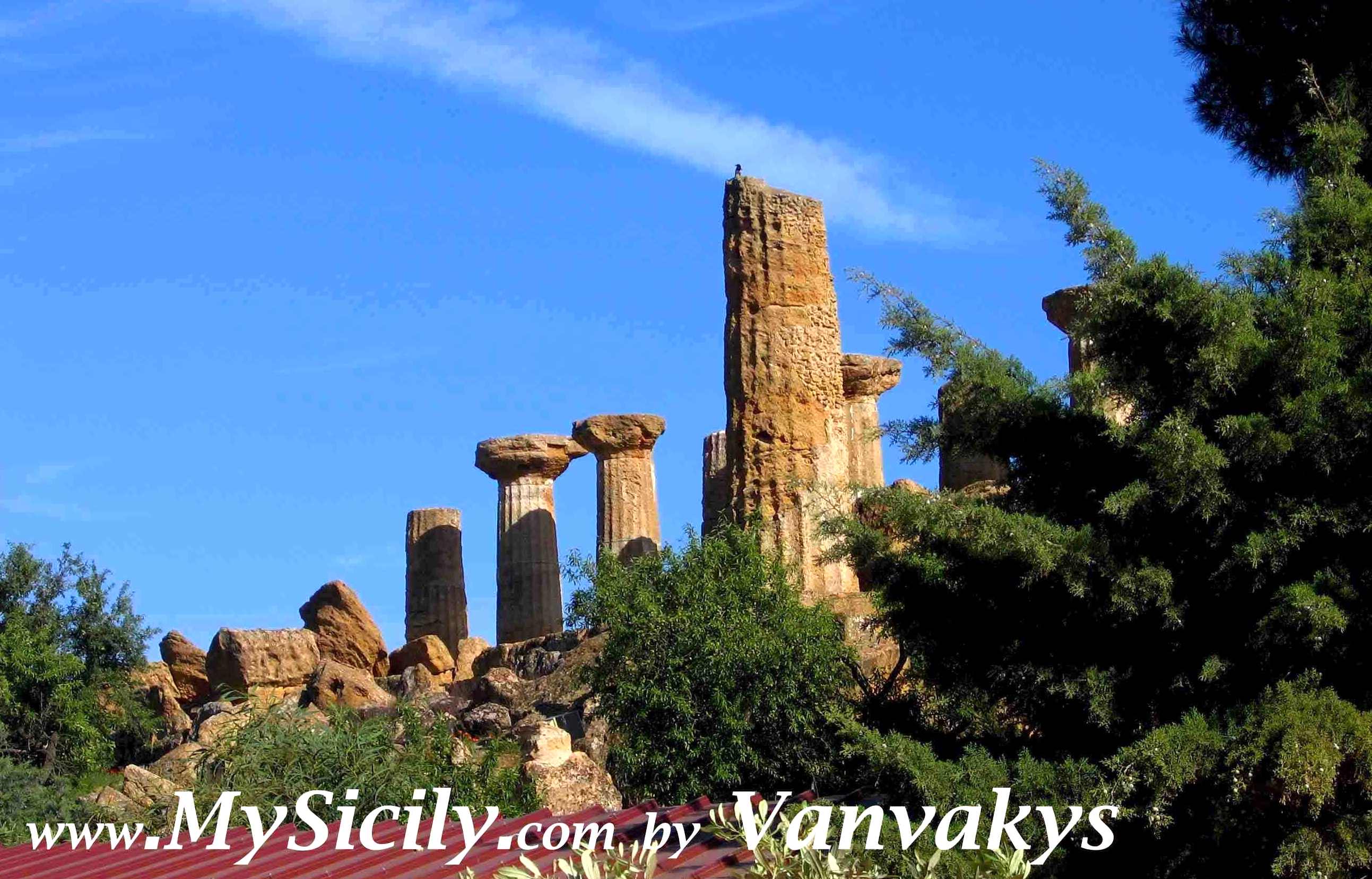 Agrigento (Sicilian: Girgenti), is a city on the southern coast of Sicily, Italy, and capital of the province of Agrigento. It is renowned as the site of the ancient Greek city of Akragas (also known as Acragas (Ἀκράγας) in Greek,Agrigentum in Latin and Kirkent or Jirjent in Arabic), one of the leading cities of Magna Graecia during the golden age of Ancient Greece.
 AGRIGENTO – SELINUNTE-  MENFI –  SAMBUCA DI SICILIA – SANTA MARGHERITA BELICE – SCIACCA – RIBERA – SCALA DEI TURCHI
Following the curve, that from Capo Lilibeo, leads south on the shores of the Strait of Sicily, there  is the Route of the Lands of  Sicanians or Strade del Vino Terre Sicane, (Sicanians were one of three ancient peoples of Sicily present at the time of Phoenician and Greek colonization).    This is the area of Agrigento, where, with the City of the  Valley of the Greek Temples, together with Selinunte can be considered the one of most extended archeological area in the world: here  the wine and food culture can be seen towing the economy of the area.
Very close to, in Gela a great Siceliot-Greek poet, Archestrato of Gela (IV century BC), wrote "Hedypatheia" or "Gastronomy", the first Poem of Gourmet. As a young poet Archestratus was disciple of the most famous Epicurus, becoming an Expert in the art of pleasure. In his poem Archestratus tells of his long journeys in search of the best food and the finest wines.   It also deals with the bread, fish, the production and storage of wine and food. It focuses mainly on fish, indicating the best quality, the places of origin, the most famous species and the specific fishing seasons. The first gourmet book in the world.
See also "history and Legends of Sicily from the kitchen to the cellar".   
Speaking of high cultural paths, in a hill facing the "abused" Valle dei Templi,  there is "Kaos" (Chaos) the house of Luigi Pirandello, the inventor of the modern theater, awarded in 1934 Nobel Prize for literature for his "bold and brilliant renovation of the drama and the stage". - Here the DOC areas  of Sicilian Wines Here you'll find  Santa Margherita di Belice, the summer residence of Il Gattopardo, translated  "The Leopard" written by Tomasi di Lampedusa  published in 1958,  does anybody remember the movie of Luchino Visconti with  Burt Lancaster, Alain De Lon and Claudia Cardinale. read more
Just few miles from Agrigento, Sambuca di Sicilia, Menfi  (nowadays one of the most active  "Slow food" presidium)  and Contessa Entellina. Beautiful beaches in this area such as: Eraclea Minoa, with its woods by the sand,  one and the UNESCO site: the white reef of "Scala dei Turchi". – See more at: Wine Trails of Sicily III     Continue reading →