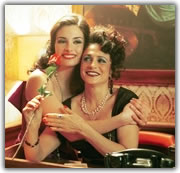 Guia Jelo

studied at the School of the Stabile Theatre in Catania, and she
has immediately shown her uncommon acting qualities becoming one of the
most important actress in the national scene. With her activity, she has given
prestige to her Sicily. Thanks to her expressiveness and ability she has
played different roles in films ("Le Buttane" (Whores) by Aurelio Grimaldi for
which she was one of the nominees for best actress at the Cannes Festival in
1994), on television (she plays in different episodes of "Il Commissario
Montalbano" by Andrea Camilleri) and in theatre ("Liolà" by Pirandello). Her
CV is rich in roles of leading actress and supporting actress in many films,
TV series and theatre comedies. A pure artist, a versatile actress with an
expressive capacity of various aspects. English version by VanVakys VRC consulting

Diplomata alla scuola del Teatro Stabile di Catania nel 1974,

Guia Jelo

ha subito dimostrato le sue non
comuni qualità recitative, diventando un'attrice di prima grandezza nel panorama nazionale. Una realtà di
tutto rispetto che ha dato lustro e prestigio alla sua sicilianità. Grazie alla sua espressività e capacità a
calarsi nei panni di molteplici personaggi, Guia Ielo è riuscita ad interpretare ruoli di tutto rispetto dai
contenuti intensi, sia al cinema, sia in televisione che in teatro. Impossibile riportare per intero il suo ricco
"palmares" di partecipazioni in ruoli di attrice protagonista e di co-protagonista in innumerevoli fictions
televisive, films e commedie teatrali. Artista di razza, attrice poliedrica e dotata di una capacità espressiva
dalle molteplici sfaccettature.


Richard Burton: ci facevamo i complimenti pigliandoci per i capelli.>>


Ciccio Ingrassia dopo la morte di Franco Franchi

<<Eravamo nati per completarci e per volerci bene, ma a modo nostro. Siamo stati come Liz Taylor e